ZODIAC DANCE PARTY, Celebrating Pisces! FREE TACOS + 1/2 OFF DRINKS 8-9pm
$10.00 - $70.00
Sales Ended
A Monthly Star-Sign Celebration at the Mint.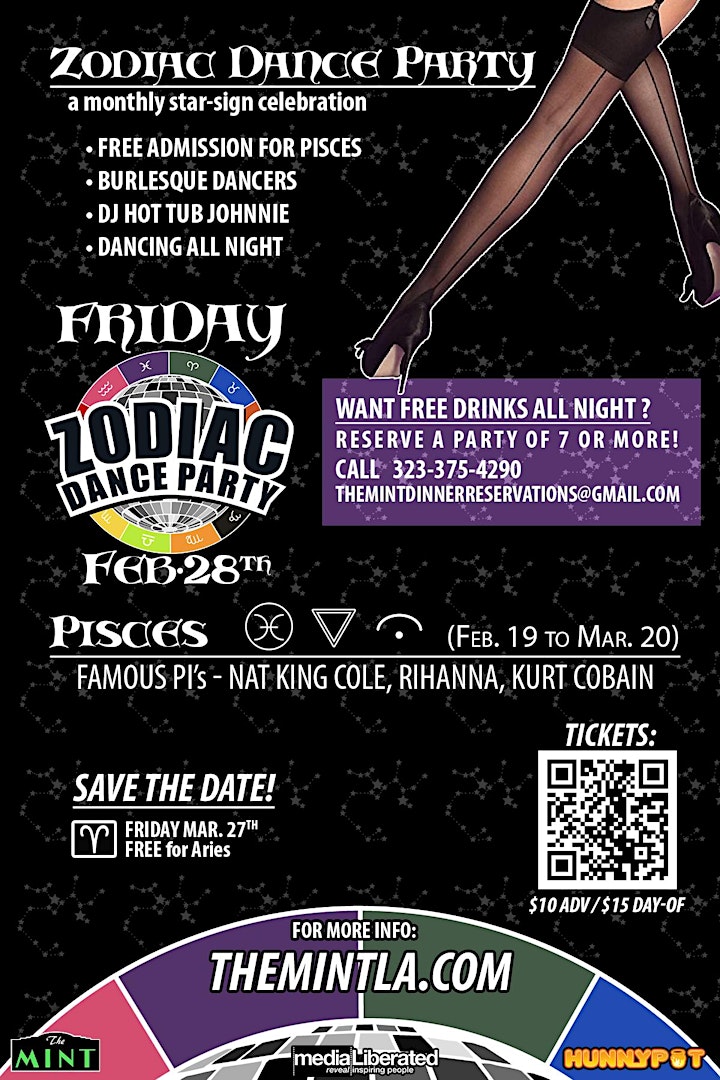 LOOKING FOR A FUN PLACE TO CELEBRATE YOUR BIRTHDAY?
READY TO DANCE?
This month's Zodiac Dance Party goes down February 28th, 2020. The star sign we're celebrating is Pisces. Join CK, Ryan Rachid, Hunnypot's party master DJ "Hot Tub" Johnnie, our Zodiac Burlesque Dancers and start the new year of life off with a bang. "Hot Tub" will be spinning body moving faves from all eras, Disco, Funk, Motown, 80's & 90's. Sock-hop to Hip-Hop all night long, Old School and New School dance classics!
All those born during this month's star sign get in for free. Bring in a party of 6 or more the birthday person drinks for free and we will reserve you a personal booth (limited supply)!
Invite your friends, polish those dancing shoes and join us every month for an ultimate dance party experience.
Pisces (February 19 – March 20) : Pisces is the most artistic and creative zodiac sign in all of astrology and is able to create powerful expressions of their own ideas, feelings, and emotions. Pisces signs are also malleable in the sense that they are one of the most flexible zodiac signs when change is introduced. The Two Fish are sociable and can be found as a solid friend or partner with almost every personality type.
One of the key traits for any Pisces is their ability to build bridges with the most varied, different kind of personalities and still establish genuine friendship with. Artistic creativity, emotional intuition, and the ability to go with the flow all define key traits of the Pisces zodiac sign.
Some of our favorite Pisces are Rihanna, Justin Beiber, Nat King Cole, Kurt Cobain, Steve Jobs, Albert Einstein, & Elizabeth Taylor!
$10.00 pre-sale$15.00 Door8pm - 2am
Friday March 27th we're going Aries. Save the date!
For more information (310-351-0336) Tickets & Reservations.
(Presented by CK, Ryan Rachid Taalbi and John Anderson)
HEY BABY, WHAT'S YOUR SIGN?
Venue Information:
The Mint
6010 Pico Blvd
Los Angeles, CA, 90035