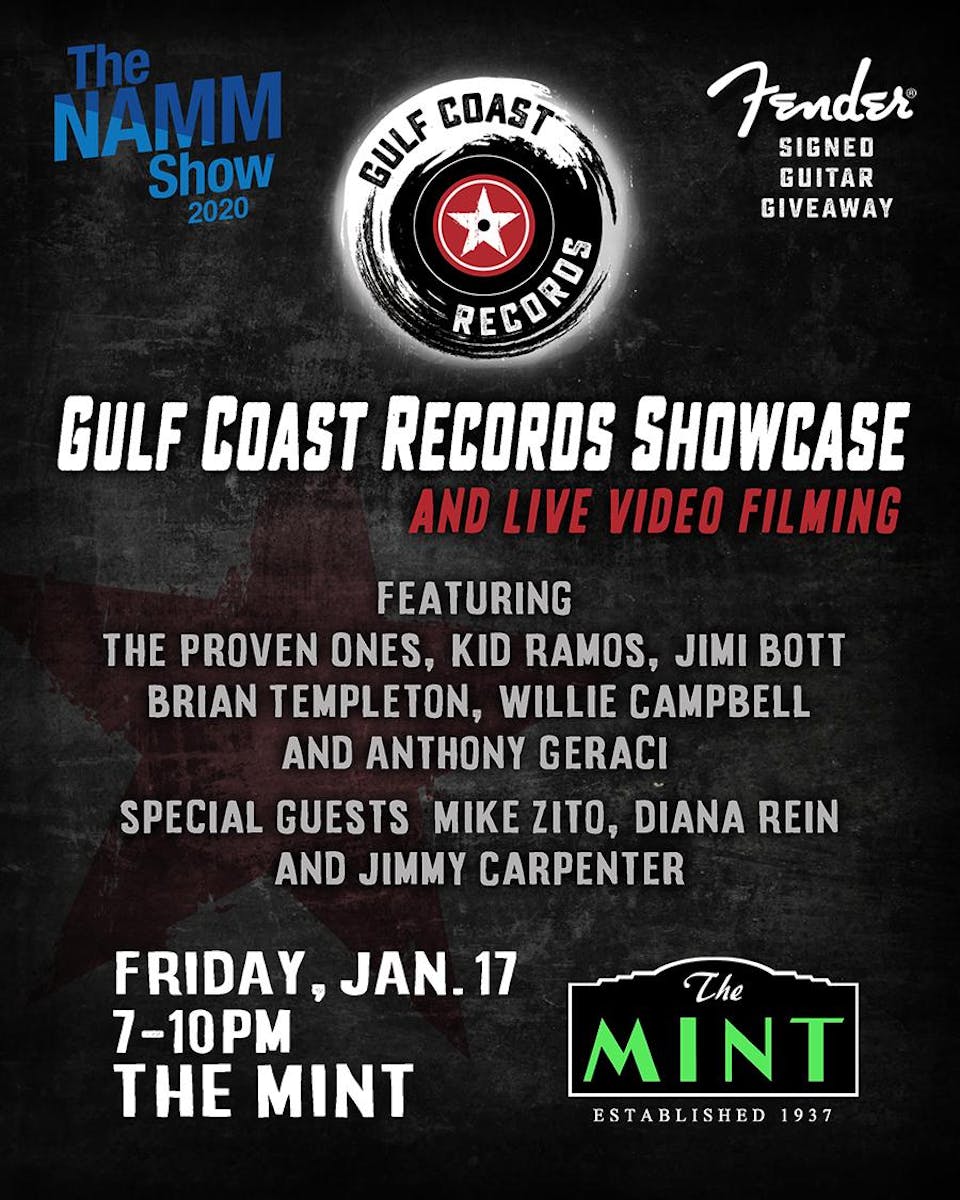 Gulf Coast Records Showcase and Live Recording
Gulf Coast Records Showcase and Live Video Recording featuring The Proven Ones (Kid Ramos, Jimi Bott, Brian Templeton, Willie Campbell and Anthony Geraci) with special guests Mike Zito, Diana Rein and Jimmy Carpenter.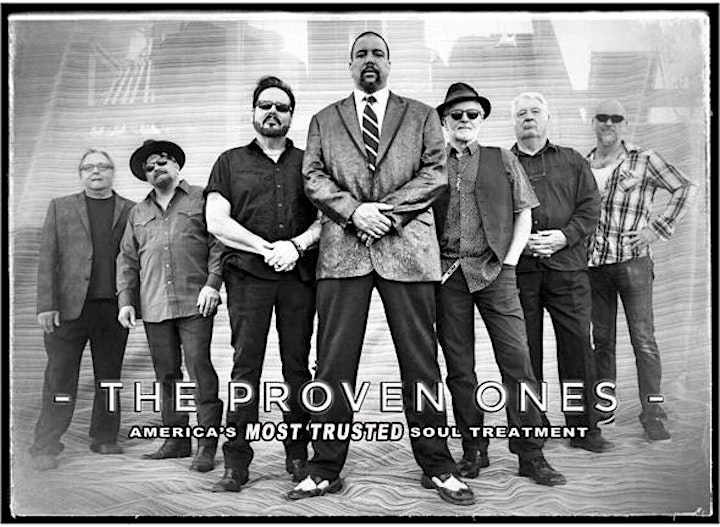 The Proven Ones are Kid Ramos, Brian Templeton, Anthony Geraci, Willie J. Campbell, Jimi Bott, Joe Mack and Chris Mercer. They are truly an All-star band to be reckoned with. Their first recording Wild Again (Roseleaf) earned a 2019 Blues Music Award Nomination from the Blues Foundation for Best Contemporary Blues Recording. In addition Willie J. Campbell, Anthony Geraci, and Jimi Bott were nominated in 2019 on their respected instruments. Collectively The Proven Ones (TPO) have been featured on hundreds of recordings! All members have recorded with and shared the stage with many legendary and contemporary Blues Artists and have played at various music festivals worldwide.
-Kid Ramos is one of the most respected blues guitarist anywhere. He has been a member of the James Harman Band, The Fabulous Thunderbirds, The Mannish Boys-that also included Campbell and Bott. Ramos was awarded The Orange County (CA) Music Awards Lifetime Achievement Award in 2014. He has received 14 Blues Music Award nominations. Kid Ramos also produced legendary pianist Floyd Dixon's final recording as well as the accompanying documentary. He has also appeared on sound tracks in movies that feature Bernie Mack, Sylvester Stallone, and composer Hans Zimmer. -Lead singer Brian Templeton brings soul power to The Proven Ones. A veteran of over 40 years in the powerful Boston, MA music scene. Brian was part of the Radio Kings which released recordings on the Icehouse Record label. He has been featured with harmonica ace Jerry Portnoy, Sonny Rhodes, James Cotton, Otis Grand and has toured under his own name in Europe, Canada and the United States. Brian was also a featured performer at the Original House of Blues (Cambridge, MA) Blue Monday Band along with Geraci.
-Pianist/Hammond Organist Anthony Geraci is an original member of Sugar Ray and the Bluetones and Ronnie Earl and the Broadcasters. He has appeared on over 40 recordings and has received a Grammy Nomination for Super Harps I (Telarc). Anthony has numerous Blues Music Award nominations-most notably the Pinetop Perkins Piano Award 4 years in a row and an unprecedented 6 personal Blues Music Award Nominations in 2019. Anthony was inducted into the Rhode Island Music Hall of Fame in 2016 with Sugar Ray and the Bluetones.
-Willie J. Campbell has been the bass player for some of todays most notable blues bands/musicians-The Fabulous Thunderbirds, James Harman, The Mannish Boys. Willie has also recorded with these Artists: Sugaray Rayford, Smokin' Joe Kubek and Bnois King, Cheech and Chong- Get Out Of My Room, Mike Morgan, Kevin Selfe, Kid Ramos, as well as Geraci's 2019 BMA nominated Why Did You Have To Go (Shining Stone) CD.
-Drummer Jimi Bott is one of todays hardest working blues and roots drummers. He has been nominated by the Blues Foundation for Instrumentalist-Drums 20 times! Winning the Blues Music Award in 2015. Jimi was inducted into the Cascade Blues Association Hall of Fame in 2009-The Blues Drummer Award is now named after him. Jimi was also a member of the Fabulous Thunderbirds, The Mannish Boys and Rod Piazza and the Mighty Flyers. He has been featured on over 100 recordings.
-Rounding out The Proven Ones sound are trumpeter/arranger Joe Mack and tenor saxophonist/arranger Chris Mercer. Joe has played on recordings with, and arranged for Artists such as Paul Delay, Curtis Salgado, Kevin Selfe, Karen Lovely, and Lisa Mann. Tenor saxophonist/arranger Chris Mercer has been an in demand Musician for decades. He has toured or recorded with an amazing group of Artists including: Bob Marley, Dr. John, The Pretenders, Janiva Magness, The Temptations, John Mayall, Freddie King, Procol Harum, Marc Bolan and T. Rex, Buddy Guy…and many, many more.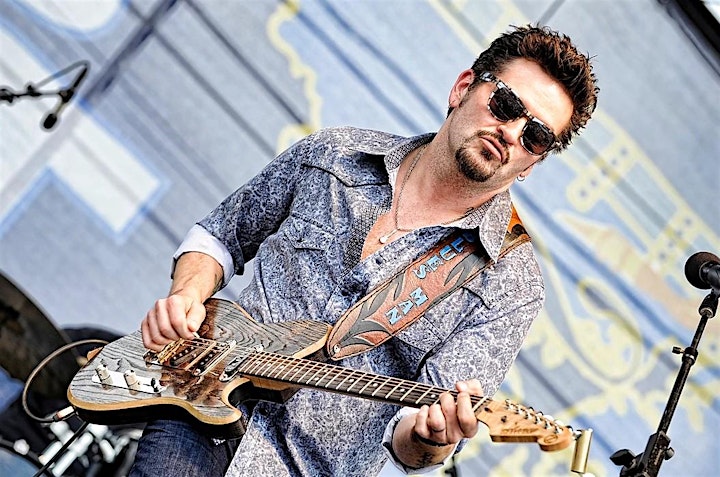 He may be one of the most lauded artists in the contemporary blues arena today, and rightfully so, but for Mike Zito, the thing that counts the most is maintaining his honesty, authenticity and integrity. Those are the qualities that have steered Zito's career since the beginning and continue to define every effort he's offered since.​"I have nothing to hide; it seems my honesty is what people relate to most," he once told Vintage Guitar magazine. "Anders (Osborne) told me early on, 'If you don't believe what you're singing, you'll never be a good singer.' I try not to write fluff; I try to make every word count."​
That point became convincingly clear with his last record 2018's First Class Life, a collection of songs that detailed his journey from addiction to sobriety and the subsequent success he achieved through his award-winning body of work. A multiple award winner and nominee, Zito has built his career on an ability to tap into tradition while maintaining contemporary credence all at the same time.​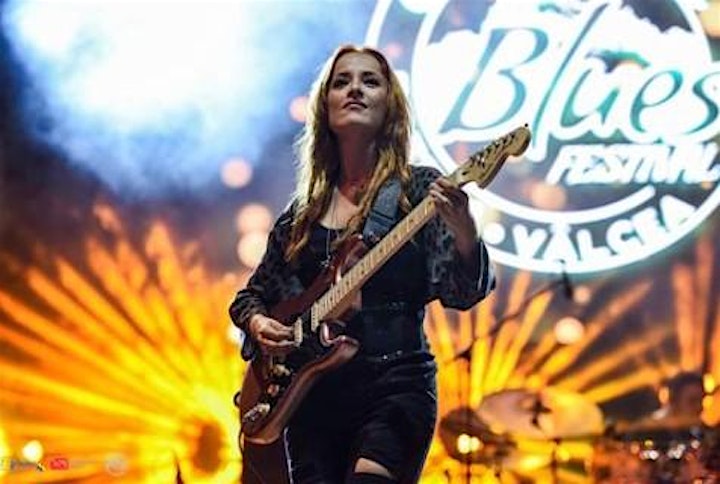 With her sultry and powerful vocals reminiscent of Emmylou Harris and Bonnie Raitt, songs that evoke an emotional response and a guitar style that has been compared to the likes of BB King with the tone of Stevie Ray Vaughan, Diana Rein is becoming the quintessential blues musician.
Recently signed to Mike Zito and Guy Hale's label Gulf Coast Records, Diana released her third album "Queen of My Castle" on the label which was Produced by Michael Leasure (Walter Trout's longtime drummer). The album has received much acclaim and rousing reviews of its fifteen original songs.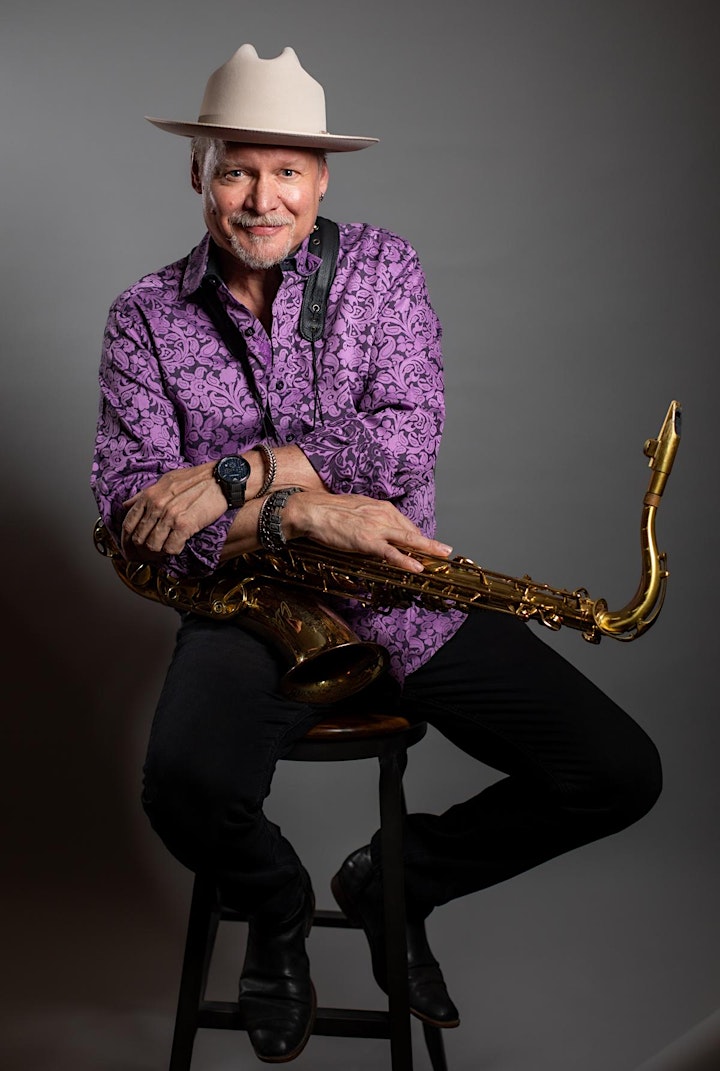 Jimmy Carpenter, saxophonist, singer-songwriter, and arranger, began his musical journey over 35 years ago. In the '80s, he toured the east coast with the renegade blues band, The Alka-Phonics, in the '90s with the blues-rock band The Believers, with whom he learned about the music business. Over the years, Jimmy has toured internationally with Tinsley Ellis, Jimmy Thackery, Walter Wolfman Washington, Eric Lindell, and others. In 2012 Jimmy joined Mike Zito, his long-time friend and musical cohort, and recorded and toured as a member of Mike Zito and the Wheel. In addition to touring nationally & internationally, Jimmy has written, arranged and recorded the horns for many artists, and has gained a reputation as a master Blues, Rock-n-Roll and R&B saxophonist. Jimmy has also released three solo albums: Toiling in Obscurity, (2008); Walk Away (Vizztone 2014), and Jimmy Carpenter Plays the Blues (Vizztone 2017). After many years in New Orleans, he currently lives in Las Vegas with his partner in crime and musical inspiration, Ms. Carrie Stowers. In addition to leading his own band and playing with numerous others, he is the Musical Director for the Big Blues Bender, and leader of the Bender Brass, The Bender's house band. He is the current president of the Las Vegas Blues Society, and in 2019 was nominated for a Blues Music Award, his 4th for Best Instrumentalist/Horn.

Venue Information:
The Mint
6010 W Pico Blvd
Los Angeles, CA, 90035