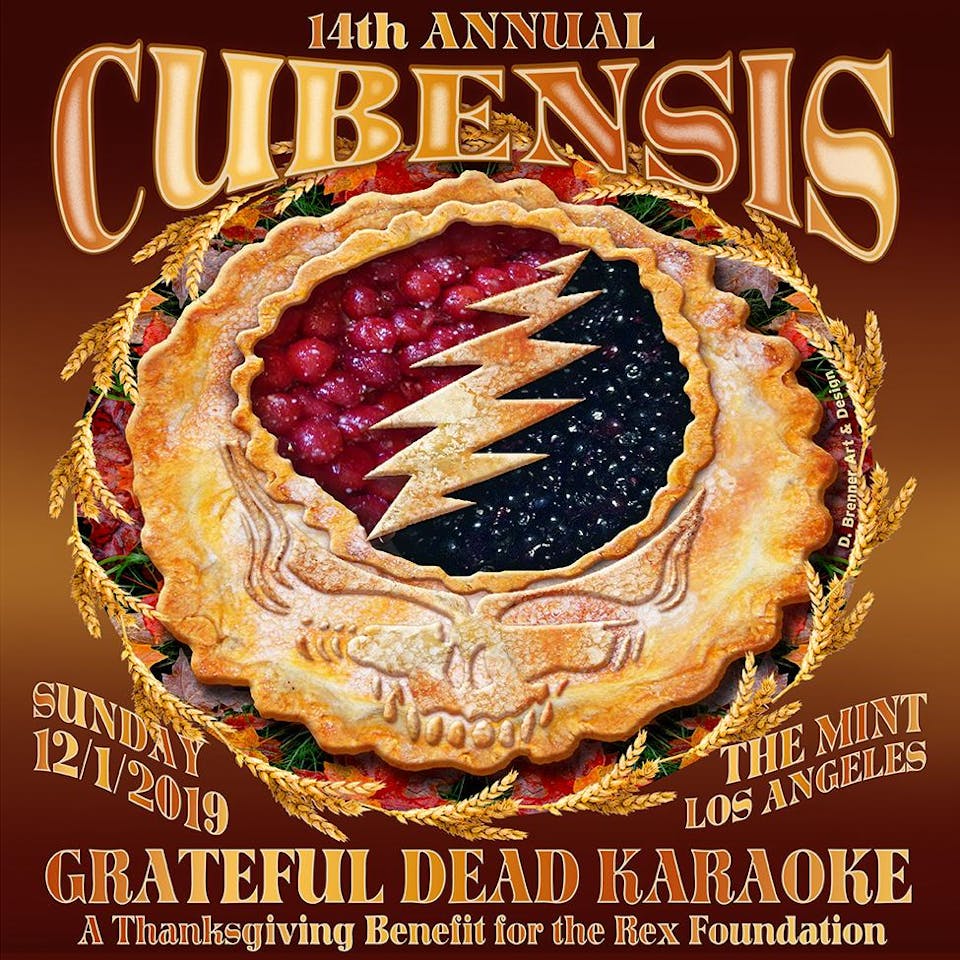 Grateful Dead karaoke with Cubensis: A Thanksgiving benefit for the Rex Foundation.
For a $20 donation to Rex, sing or play a Grateful Dead song with the band. This year, we're hosting a potluck dessert event preceding the music. Bring your favorite dessert to share.
Delicious dinner items from the Mint's menu will be available, including a turkey dinner special, as well as a full bar.
Festivities begin at 3pm with the dessert potluck, with music around 4pm. Consult the Cubensis Facebook page for a sign-up sheet for songs you want to perform (each song is an additional $20 donation).
General admission is $15, kids 12 and under free.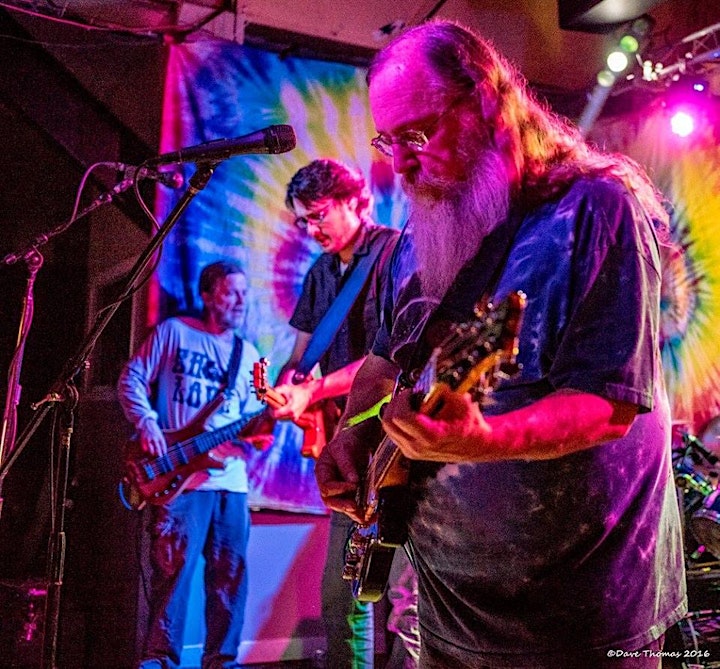 Since 1987, Los Angeles-based band CUBENSIS has carried the torch in celebration of one of America's most beloved touring bands, the Grateful Dead. CUBENSIS brings the Grateful Dead concert experience back to life. Drawing from all eras of the Dead, the band performs full sets of Grateful Dead and Jerry Garcia Band classics that retain all the spontaneous exploratory jamming for which the bands were renown. However, the music produced is uniquely Cubensis.

The group has been acclaimed for giving new life to the Grateful Dead's material, bringing in new styles, new innovations, and new jam band enthusiasts, while at the same time remaining loyal to the original music and the original fans.

Here, you won't find the band wearing wigs and fake beards to re-create the Dead experience, unlike Beatlemania. "We don't strive to play Dead tunes note-for-note," explains Cubensis guitarist Craig Marshall. "We use the music as a skeleton, and then we flesh it out with our own improvisations. The Dead did that every time they played, and we find it to be a perfect model for our shows. The fans agree...they love hearing and dancing to Cubensis-flavored Dead." Although the band makes little attempt to sound or act like the members of the group they're portraying, Marshall asserted, "We do play the music in the spirit of the Dead, the way they might have if they had kept at it!"

Cubensis is drawing national attention with their true-to-life performances, dipping into every incarnation of the Dead, so most fans can experience shows that happened long before they were born. LA Weekly recently raved, "Cubensis plays with the same laid-back mastery as the real McCoy." Big Brother skateboard magazine says Cubensis is "the nation's premiere Dead tribute" and the OC Weekly declared them "the hottest Grateful Dead tribute act going." OC Register affirmed Cubensis was "the best place to channel Jerry Garcia" and AOL Citybeat stated, "Cubensis is renowned for whipping its faithful crowd into a swirling, psychedelic mass for three hours straight."

Each night, Cubensis decides on performing songs from the hundreds that the Grateful Dead performed during their 35-year tenure as fathers of improvisational rock. As a chamber orchestra interprets Bach or Mozart, Cubensis presents a completely spontaneous set list, song by song, with uncanny faithful interpretation. Audience members encourage the band by calling out requests for favorite tunes. The band performed their 4000th show during their 2017 summer tour, more shows than the actual Grateful Dead played.

Cubensis has been pleased to find their most enthusiastic supporters are those who never got a chance to see the Grateful Dead in person and wonder what they missed. Seasoned "Deadheads" come out to relive the great shows gone by, and as a result, the band is in great demand, performing over 150 shows a year throughout the Southwest.

Venue Information:
The Mint
6010 Pico Blvd
Los Angeles, CA, 90035