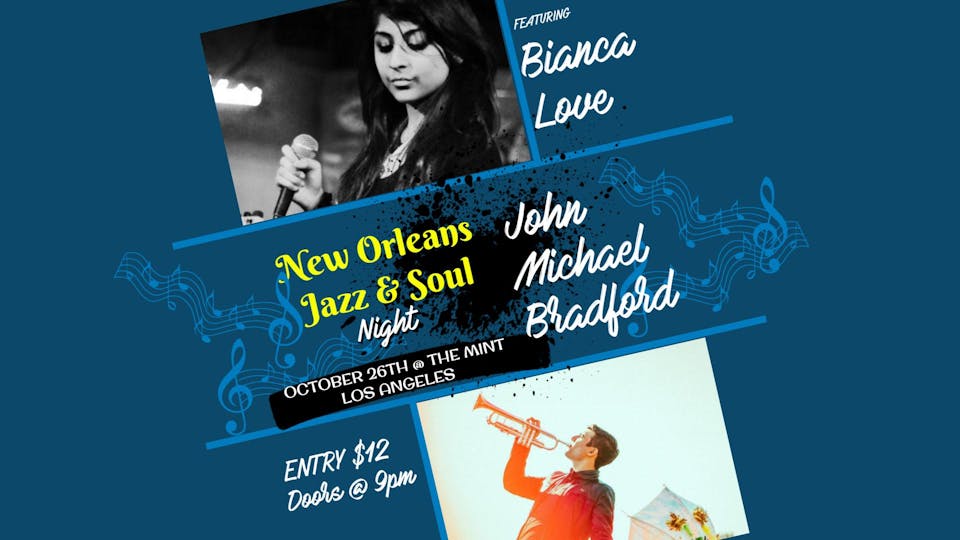 Bianca Love
John Michael Bradford, Juhan Ongbrian, Alicia Nicole
Live music with: Indira Khan (8:00), Juhan Ongbrian (9:00),Alicia Nicole + Pxncho (9:45), Bianca Love (10:35), John Michael Bradford (11:45)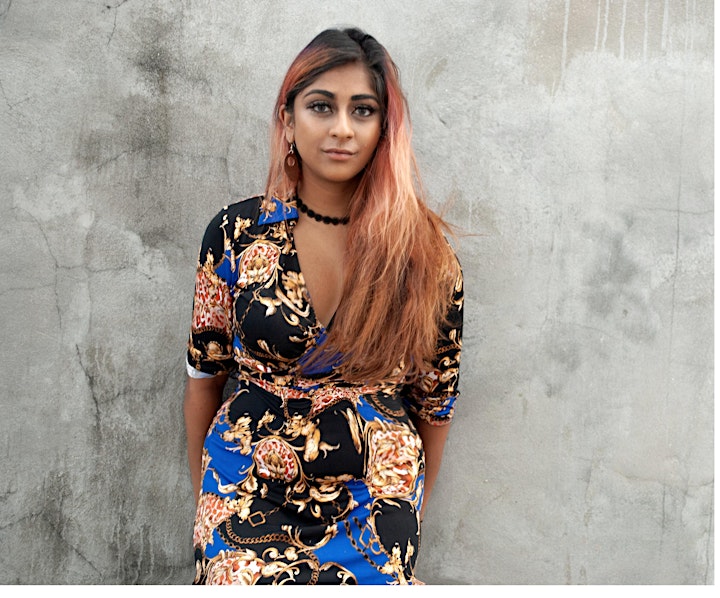 Bianca Love is a vocalist/producer/guitarist/trumpeter born and raised in New Orleans, Louisiana. Bianca's music draws influence from a range of contemporary soul/jazz greats such as D'angelo to Erykah Badu, Stevie Wonder to Thundercat and Flying Lotus. Bianca moved to her family's hometown of Calcutta, India and later in Mumbai, India from 2011-2017 where she studied and performed jazz. By 2015, she was touring around Asia with her band and solo setup. Bianca moved back to New Orleans in 2017 and currently plays shows around the city. Her new single, "Glass Eye Cry", came out in May 2019 and was recorded/produced in Kingston, Jamaica. She has played a total of over 150 venues and appeared on TV shows/webcasts such as MTV, Vh1 Music Diaries, Kappa TV and Balcony TV. She has also done studio work and jingles for several notable companies including Microsoft Lumia, IIHM and Earth Day Network.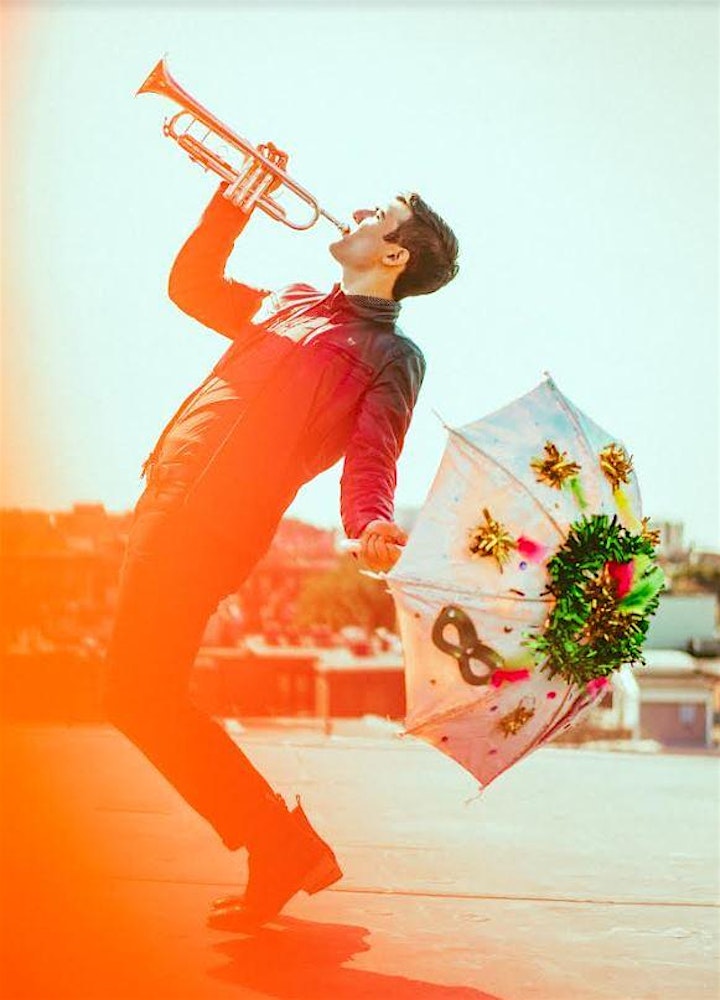 John Michael Bradford is a trumpeter/singer/composer from New Orleans, Louisiana. Like so many before him, John Michael's passion for music was sculpted by the spirit, sounds, and fate of New Orleans, Louisiana. Inspired, by Sam Williams of Big Sam's Funky Nation, during his time of evacuation for Hurricane Katrina, John Michael, still being a young boy, realized what he wanted to do with the rest of his life. Bradford's musical gift has now taken him from the streets of New Orleans to performance halls around the world, playing shows in Japan, Cuba, Switzerland, at Carnegie Hall in New York, even at the Grammys.His first album, "Something Old, Something New," came out last year, and he just graduated from the Berklee College of Music on a full scholarship and now resides in Los Angeles.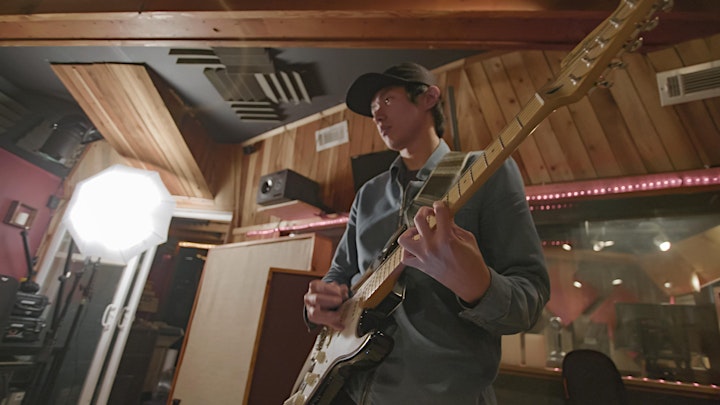 Experimental Jazz; Jazz Fusion; Electro Jazz…however you want to label it, the pioneering artists taking Jazz to brand new audiences are some of the biggest success stories in the music industry in recent years, taking a form of music which had fallen cruelly out of fashion into something which unified people across generations, cultural backgrounds, and class. Entering the arena is Juhan Ongbrian who brings his guitar and compositional skills to a life which has seen him take influence from his birthplace in Indonesia, to Singapore and through to a prolonged stay in Seattle and finally to his base in Los Angeles. He is bringing his new EP this year for its launch, eager to show his combination of blues, jazz and ambient beats in his music. Musicians who are featured in this upcoming show: Ech0 on drums, Sly Chong on bass, and Hannah Ureste on trumpet.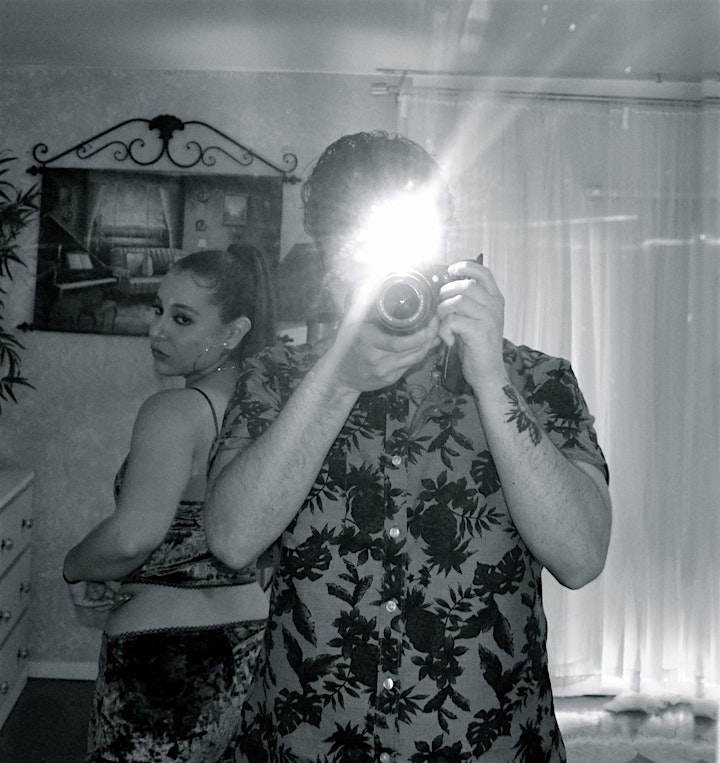 Alicia Nicole and Pxncho are recording artists based in Southern California. With their unique blend of Latin rhythms and modern soundscapes, these two artists are slowly building their sound and brand to share with the community. After having success playing shows around San Diego, the duo is now setting their eyes on LA. Pxncho handles the production side of their projects, while Alicia shows off her vocal talent with amazing balance.With one prior album and a recently released single they are ready for the next chapter. The duo is self produced and handled completely in house. These two artists are students to the game and the growth of their ambition has no limits.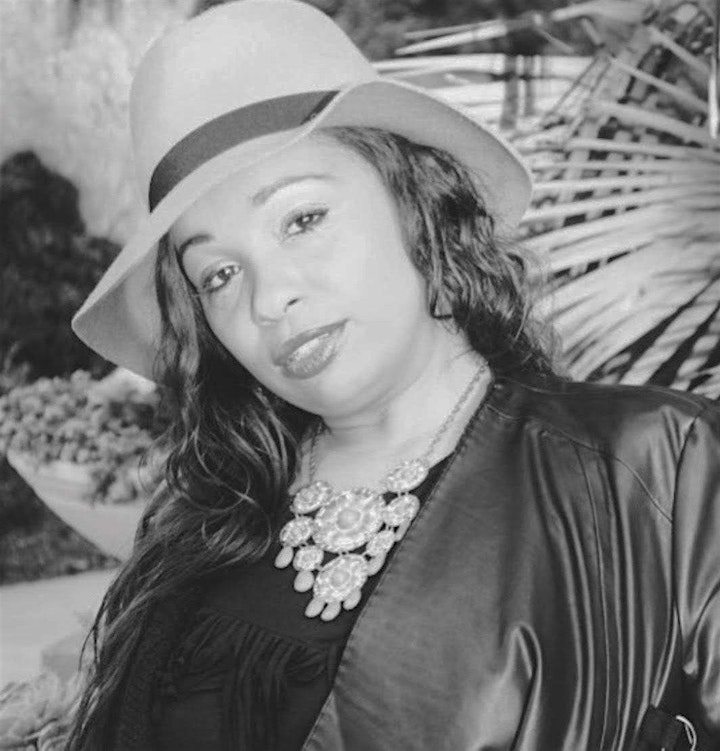 Indira Milini Khan was born in Chicago and grew up in Los Angeles and New York City. The sultry young singer comes from a musical family; her mother is the legendary Pop/Soul icon Chaka Khan. Indira's musical influence stems from performers of varied genres such as: The Artist (Prince), Aretha Franklin, Minnie Riperton, Joni Mitchell, Steely Dan, Sarah McLaughlin and Sheryl Crow.Indira began her professional music career at a young age. From the ages of fourteen to seventeen, she was the founding member of the Motown Records group Pretty in Pink. Indira was responsible for co-writing the majority of the groups material. After her stint with Pretty in Pink, she went on to record with Atlantic Records recording artist Miki Howard, Motown Records recording artist Johnny Gill and Island Records recording artist Shabba Ranks. Indira also appeared on projects by Loud Records recording artist Yvette Michelle, Mercury Records recording artist Paula Abdul and has also been featured on several Chaka Khan records as well.Indira is known in the music industry as a prolific songwriter. It is her deeply personal songs and passionate writing that is true to her heart. Always striving as a singer and performer, Indira has toured extensively most recently with the Daughters of Soul and Rufus, both in the United States and Overseas. A benefit of Indira's travels with her mother on the road is her perspective on how music is a powerful influence in the lives of all people. Though she considers her music mainly R&B, don't be surprised to hear some funk, rock and jazz spicing up the tracks in her forthcoming release.In Spring of 2016 Indira made her film debut as she co-starred in the TV One Unsung Original movie Love Under New Management: The Miki Howard Story. In the biopic about R&B Singer Miki Howard's life Indira portrayed her legendary mother. Her performance in the movie received rave reviews and marks the beginning of what is sure to be many future roles.

Venue Information:
The Mint
6010 Pico Blvd
Los Angeles, CA, 90035